Behind Google's tech avatar : The real intentions of Google
Google Inc. a company that has more than half the world's online information. An advertising revenue that can put even the greatest media houses to shame and a powerful search engine which has mammoth amount of data to draw results from. A mobile OS which is currently ruling more than 60% of smartphones on the planet. So, is Google Just a technology company? Or is there another mask behind Google's tech avatar. If we do a rain-check on the services provided by Google then we find that it has forayed into every possible technology field. Does Google do it for profit only? Does Google want to rule every possible technology out there?
The questions vary from the mundane to gigantically complex. And the answers, well nobody knows what Google wants except Larry Page & Sergey Brin. But we here at Inspire2rise.com will try and understand what is the future of Google, the real face behind Google, is it something worth worrying or not. Or something else conspicuous is at work here!
You may like : Set up Google Page Speed.
Behind Google's strategy : The Data Collection.
Behind every service that Google provides there is tons of data collection. Let's clarify with some examples :-
Email service – Gmail : Gmail is one of the most free email service providers in the world currently. Everyone says they love Google's Gmail service for the speed, simplicity, ease of managing their inbox and other goodies. But what they don't know is that Google scans each and every mail in your inbox on the pretext that it has to scan for malicious elements and improve its spam detection rate. Recent leaks brought to light the fact that Google scans through user emails to give more targeted advertisements to them. This in itself seems like a clear violation of privacy of the common user.
Operating Systems – Android and Chrome OS : Android is the world's leading smartphone Operating system. More than 60% of new smartphone activations daily are of Android phones. Though Android is open source and easily customizable, it's also a very good tool for Google to collect more data from their users. Data like their Geo-location, their usage patterns etc. everything is recorded and monitored to a large scale.
Cloud Storage – Google Drive : Google Drive is Google's answer to cloud storage. But even files uploaded to drive aren't safe from prying eyes. It's better to password protect and encrypt any sensitive files before uploading them to Google drive.
Social Network – Google+ : What better way can be to amass tons of data than forcing the users to give their own data without any apprehension. Social networks do just that. People upload their information, pictures etc. thinking it is part of a new social culture. What they don't understand is the price they may have to pay for sharing lots of their private data on these networks.
You may like : Adsense account disabled : How I got it back!
Browser – Google Chrome : The Chrome browser is Google's home run product. It is the most widely used and accepted browser of our times. Everyone says they love chrome for it's speed and simplicity. But after all many usage and statistics reports are sent to Google repeatedly which can be termed as sensitive information!
Advertising network – Google AdSense : After Google acquired Double click, it became a major player in Advertising industry. Even more than before with it's AdSense program which is a runaway hit. Over dependency on Google programs for monetization among bloggers is also what can be seen as Google's move to monopolize the market.
Services focusing on technical users like – Blogger, Analytics, Feedburner etc. : More and more ways to amass wealth of data, then what? We will look into this question in depth soon.
Google Search : The biggest strength of Google is it's search engine service. I know people who open even really small URLs through Google search. Such is the power and command of Google's search engine. With the world's information sorted at one place. Isn't it too much information for a tech company. What will be done with so much amassed data. Makes me wonder!
Apps, Games and exclusive services : Contests like Google Mapathon which encouraged users to share their Geo-location data, tag places which may even be  termed as sensitive to share on public media and many more violations which can be read here.
Another interesting data collection tool masqueraded in the form of a game is Google Ingress. It's an augmented reality game which works on the basis of user locations. It is one of the most lucrative ways to collect data!
You may like : Google Android 5 key lime pie.
Behind Google : Have data, leverage it, improve your services, monetize it!
So what happens to all the location data that Google collects? Obviously it's used for improving the maps service, Google earth and many other services provided by Google. But the truth may even be more ugly. Such data can be sold to willing governments who may need a clear strategy or guiding plan before they wage wars against others.
Highly complex user profiles with detailed information about an individual, his/her browsing patterns, interests etc. aren't something to worry about in the future. It's the current reality.
As was recently highlighted how the U.S government get's data from all big corporations through NSA. It's pretty clear that their is another game being played in the sidelines. One which is not good for a free world.
You may like : DIY guide to PANDA-PROOF your website.
Behind Google's tech avatar : Final Conclusion.
Recently Google launched Google Glass, a gadget worth drooling, something which looks incredibly futuristic, but still within our reach. All this data collection behind Google's services, is what I think leading to a system which knows everything about everything.
A modern day equivalent of Artificial Intelligence. So this is what seems to be the future of Google :- To build an A.I so advanced, that it may dwarf the current tech by ages. And Google looks quite set on this path.
Such a system would ensure Google's monopoly over almost every possible technology. After all what kind of company would want to have a product in every possible field if it is not aiming for World domination!
As is evident from Google Glass's attempt to remind us of J.A.R.V.I.S – Iron man's super advanced A.I which works through his helmets. It's time that we people realize what's going on behind the scenes in this glitzy tech world, and safe guard us before something grave happens.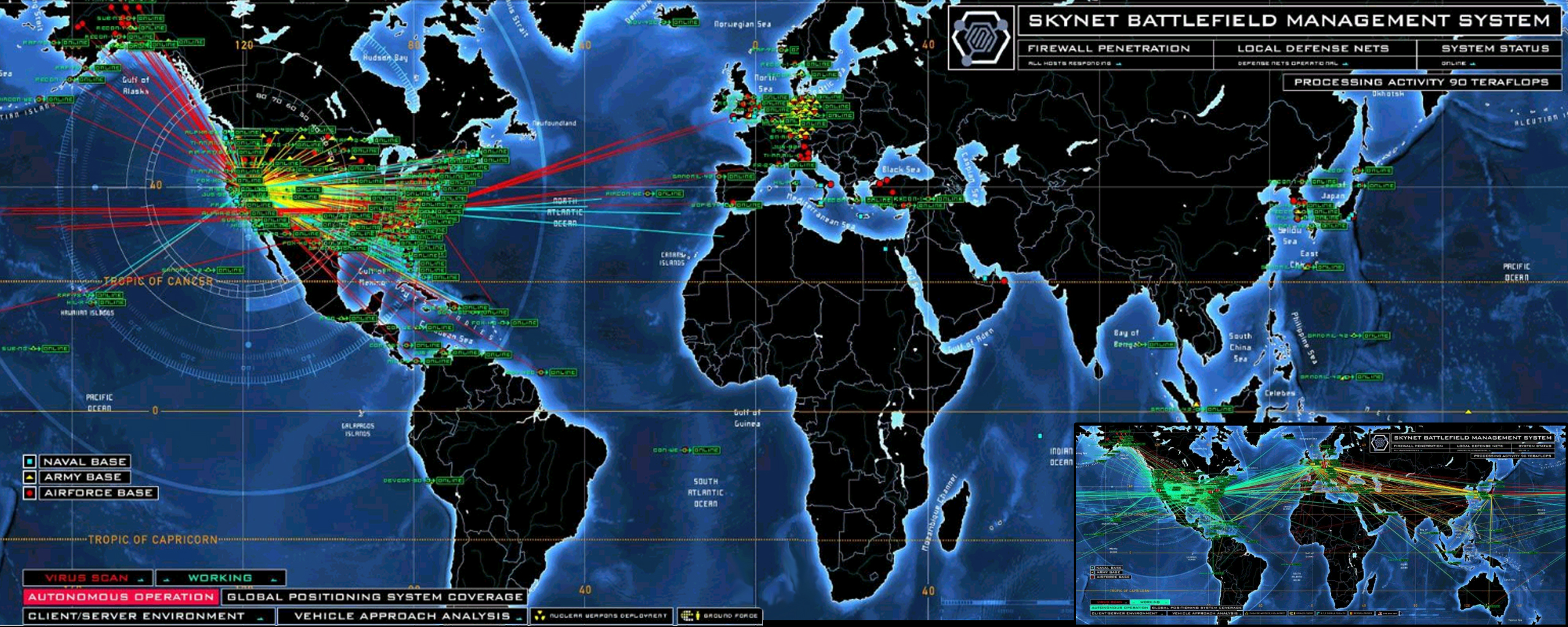 Another comparison is Skynet from the terminator series. Even the thought of a possible A.I like that makes me shudder. What do you think!
[ All views are Author's own. If you have any problem with the content, you can comment below! ]
Got any queries, doubts related to Behind Google's Tech avatar article? Want to share your views? Remember, salvation is just a comment away ! 😀
Follow Inspire2rise on Facebook | Follow Inspire2rise on Twitter.
Tags : Google, Tech , Technology , news.